In the beginning of February I discovered the Yoni eggs and Kim Anami.(The Well-F**ked Woman).  Well, I take that back. I actually had the Jade Egg on my wish list last year as I was preparing to meet up with my Frenchie 😉  J/K  but it didn't push through with it for some reason then I found Kim Anami,  the black belt in  VKF or Vaginal Kung Fu… haha
So from there, I decided to commit to Vaginal Kung Fu. This activity involves stringing a yoni egg (I started with Jade) that has a drilled hole where you can attach a string, a bag, and some extra weights. I filled the bag with something heavy (rice is suggested for beginners.) and inserted the egg into my yoni (vagina) holding the egg in place while I moved my  hips in various motions. 
Going back to it. Valentine's day was coming up and since I had no "real"romance in my life  😦  I figured I'd gift myself a set of Yoni eggs. It wasn't easy to find the perfect one. I had to do some research. I called my friend Karen to check if she had any feedback as I couldn't make up my mind on which I should get but to my amazement she's never heard of Yoni eggs before. So I did my research from scratch and finally figured out what I would get for starters.
This is my starter kit that I bought from "genuinejadellc.com". I was debating because there's so much info out there. I had to read so many articles before I came to this decision and  yoniegg.com was a very helpful website. And this is a good site to choose the right size.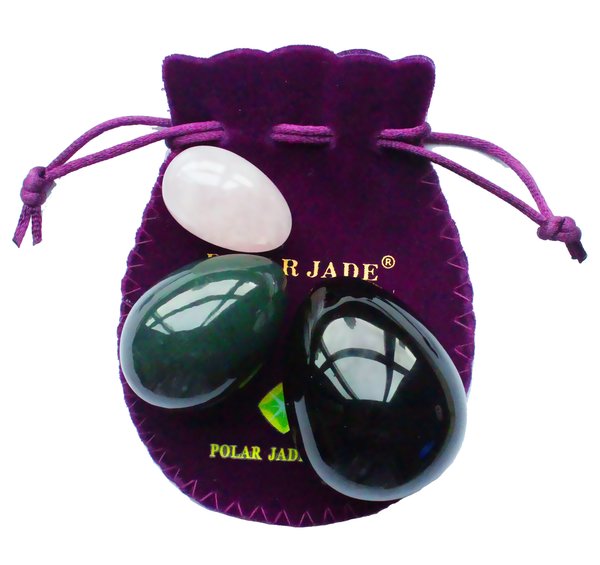 Set of 3 Yoni Eggs:  3 Sizes and 3 Gemstones — Nephrite Jade(M), Rose Quartz(S) and Black Obsidian(L) Drilled; with one Box 55 Yards Unwaxed Dental Floss & User Instructions,  for Pelvic Floor Muscles Massage -YETS4744 ($169.00 – $109.00)
Black Obsidian: Grounding. Protection stone. Clearing and shields negative energy. Activates and stimulates Base Chakra. Animal energy. Heals sexual trauma.
Nephrite Jade (darker green): Stone of health & vitality. Prosperity. Abundance. Transmutes negative to positive. Fertility. Kidney health.
Rose Quartz:  Unconditional Love. Compassion. Peace. Forgiveness. Self Love. Heals the heart Chakra. Connects heart with the Yoni. Amplifying crystal. Attract romantic partner.
Yoni eggs are not only for women suffering from vaginal looseness. The vast majority of women with a vagina can benefit from a Yoni Egg practice… helping prevent vaginal atrophy, dryness and prolapse.  Doing Yoni egg exercises helps you to isolate your vaginal muscles, increases blood flow and  stirs up the libido.  All of that is just the beginning!  There are many energetic and spiritual benefits to a woman connecting deeply with this most sacred part of her anatomy. 

Adding weight to your vaginal exercise is a trusted age-old practice. Increased lubrication, decreased incontinence, speedy postpartum recovery, more intense orgasms and a deeper connection to your divine feminine energy- every woman should experience the benefits! (Source: The Goddess Box)  It apparently strengthens and tones your yoni, which gives extra sexual pleasure to both partners and brings  yourself into alignment with your our sexual power — the wisdom and strength that comes when you let your yoni lead your life.
So I've been doing this on and off for a few weeks now and I wish I can tell you that I can feel the difference. But how do you test it really?
I have yet to find proof that it enhances the sexual experience between myself and my partner as there's nothing and noone to compare it with. I hope to be able to share it with you sometime in the near future.
WHAT ARE THE BENEFITS OF USING YONI EGGS?

---

Using yoni eggs have loads of benefits, including:

Increases connection with the Yoni (so many women are "cut off" from the waist down)
Increases sensation during sex / self pleasure
Revitalises nerve-endings in the vagina
Improves overall life-force energy or "chi" in the body
Boosts sexual energy levels and awakens the libido
Helps train the vagina for childbirth and recover the muscles post-childbirth
Increases wetness and lubrication (yes, yes, YES!)
Helps to prevent prolapse whereby the pelvic organs collapse into the vagina due to atrophy and non-use.
Relieves incontinence (weak bladder/accidentally peeing)
Balances hormones by increasing blood flow to the area, which contribute to youthfulness
Heightens orgasmic potential and able to access a variety of orgasms
Helps to stay grounded in body and brings awareness to the yoni, womb and entire pelvic band
Improves overall health, happiness and wellness – physically and spiritually – as the yoni egg focuses on the place in the body with the most Chi (life force energy).

Source: Rosierees.com
If you're interested in purchasing Yoni eggs, here's a list of  10 Best Yoni Egg Sellers.
http://www.polarjade.ca/shop/yoni-egg.html — why nephrite JADE and how to check authenticity
Grosses bises  ♥  Etoile
WARNING: Like any kind of physical activity, it is recommended to consult with your medical professional prior to starting. Please DO NOT use the yoni eggs if it causes any pain or discomfort. Also, it is not recommended if you are pregnant, or using an IUD or similar contraceptives.